A content marketing strategy must be a well thought out process that should include various content formats in a funnel. Each format or type of content must have a clear objective of meeting or addressing a particular objective or problem within the organization.
Doing this will help business organizations isolate and measure the impact of the various types of content. In addition, it will provide insight on where the business needs to focus more of their time and efforts in getting the best Return on Investment. This is possible with the use of Content Attribution Models.
Attribution Definition:
"Content attribution involves tracking the types of content and the individuals or organizational teams responsible for the content against the content's performance. Attribution also involves who is sharing the content and how they are doing it."
Learn More:
Reference 1:
http://www.triblio.com/measuring-content-marketing-with-attribution-modeling/
Reference 2:
https://support.google.com/analytics/answer/1662518?hl=en
Reference 3:
http://contently.com/strategist/2014/04/22/its-time-to-take-content-marketing-measurement-to-the-next-level/
Content Marketing Funnel (Levels)
Generally, there are three levels in the content marketing funnel, filtering down to the sales function within the organization.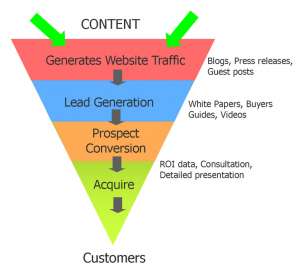 Top Level:
This level of content is designed to create brand awareness and drive website traffic.
Formats include infographics, blogging and guest publications.
Middle Level:
This level of content is designed to strengthen the relationship with the customer. It requires more in-depth knowledge from the creator and must be of high value to the target audience.
Formats include Webinars and whitepapers.
End Level:
Sales takes over now. This level of content is meant to persuade customers that your company is the best fit for them.
Formats include case studies, testimonials, user guides and product videos.
Measuring Content Performance
When measuring content performance, try as much as possible to focus more on engagement and less on comfort statistics.
Examples of engagement statistics will include visit time of day, length and depth of visit, type of content consumed (e.g., video, presentations, long-form content, infographics), referral traffic sources, trigger metrics (e.g., social shares, email sign-ups, commenting on content), site searches, referring keywords/phrases, bounce rate, conversion, exit pages etc.
Examples of comfort statistics will include social "likes" and followers, unique page views, shares.
Infographic For Building Customer Relationships
At the middle level of the content marketing funnel I made mention of strengthening relationship with the customer, a crucial aspect of growing a sustainable business. I leave you with an infographic from SalesForce on ways to build stronger relationships.
Via Salesforce