Over a period of four weeks, I thought of a better, quality and more content-focused ways to build links for SEO purposes. Thankfully, I came up with one known as the Link Kites Theory and I want to share with all my colleagues in the SEO business.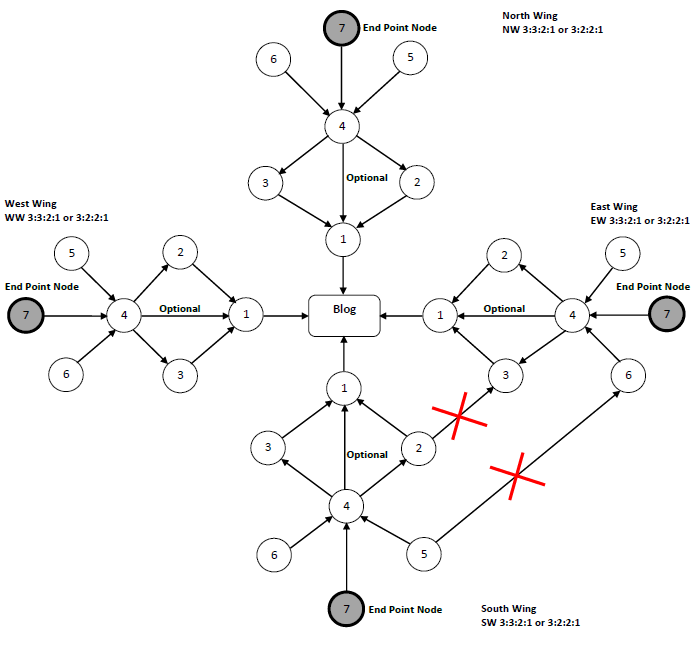 Here is how I developed the theory:
Link Kites are divided into West, East, North and South Wings;
There is a maximum of 7 Nodes on each Wing;
Each Node represents a unique domain/webpage;
Each Arrow represents a Link;
Content is published on Nodes;
Content is interconnected using Arrows;
Nodes are grouped into Inner and Outer Nodes;
Inner Nodes include 1, 4 and 7;
Node 7 is the End Point of each Wing;
Outer Nodes include 2, 3, 5, and 6;
Additional Kites can be developed using only Outer Nodes;
The Blog Node is the Focal Point, which is the blog on your website;
No interconnection between Nodes belonging to different Wings. For example, a link from Node 2 to 3 or 5 to 6 is not allowed;
Content + Links follow these conventions:
– WW 3:3:2:1 or 3:2:2:1
– EW 3:3:2:1 or 3:2:2:1
– NW 3:3:2:1 or 3:2:2:1
– SW 3:3:2:1 or 3:2:2:1
*3:3:2:1 or 3:2:2:1 means Three Content + Links on Nodes 5, 6, 7, Two or Three Content + Links on Node 4, Two Content + Links on Nodes 2, 3, One Content + Links on Node 1. So a total of 9 or 8 published content is expected from each Wing and flowing towards the Focal Point.
The key to success is proper content planning strategy. Use the QUR (Quality, Uniqueness and Relevancy) acronym with no compromise when creating content on the nodes. You can read our post content marketing success factors before you start publishing content on the link kites.
I have also created an excel form template to help you keep track of the Link Kites implementation.