Google announced its annual Zeitgeist, a look at 2015 through the collective eyes of the world on the web, offering a unique perspective on the year's major events and hottest trends based on searches conducted in South Africa and globally.
"Zeitgeist" means "the spirit of the times." At the end of each year, Google celebrates this spirit by revisiting the year's top searches around the world.
This year's overall trending searches from South Africa show a mix of the serious and the silly, with loadshedding, xenophobia, sport, and various celebrities topping the overall search trends list.
Murdered musician Flabba, actor Simba Mhere (who passed away in a car accident) and musician and producer Cassper Nyovest (who is trying to fill the MTN Dome) made the top of the Trending South African list.
Loadshedding and xenophobia topped the Trending Current Affairs search list, showing just how much of an impact both made this year, followed by 'demonic game' Charlie Charlie, the French weekly publication targeted by a terror attack Charlie Hebdo and hacked US dating site Ashley Madison, demonstrating that while we may be at the southern tip of Africa, South Africans definitely have a somewhat global turn of mind.
The late Public Service and Administration Minister Collins Chabane featured in the Trending South African, Trending Current Affairs and Trending Political Figures lists, an indication of the nation's depth of feeling at the loss of Minister Chabane in a car accident in March. Also hitting the political figures trends list were disgraced former national police commissioner Jackie Selebi and DA leader Mmusi Maimane.
South Africa Trending: OVERALL SEARCHES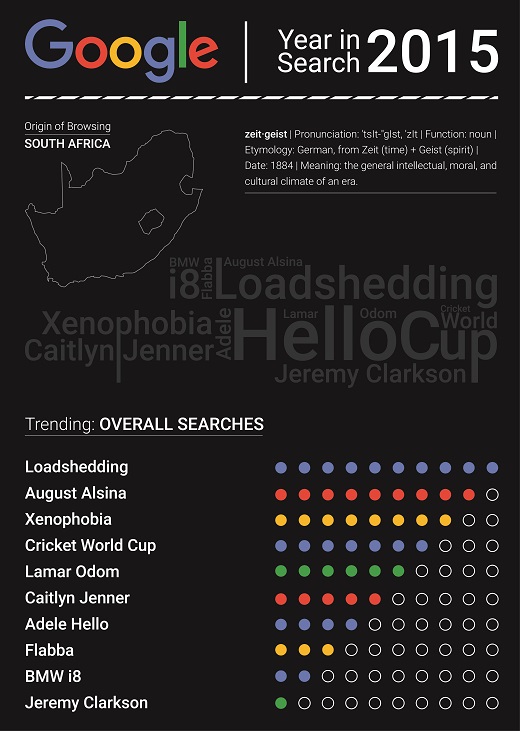 Trending South African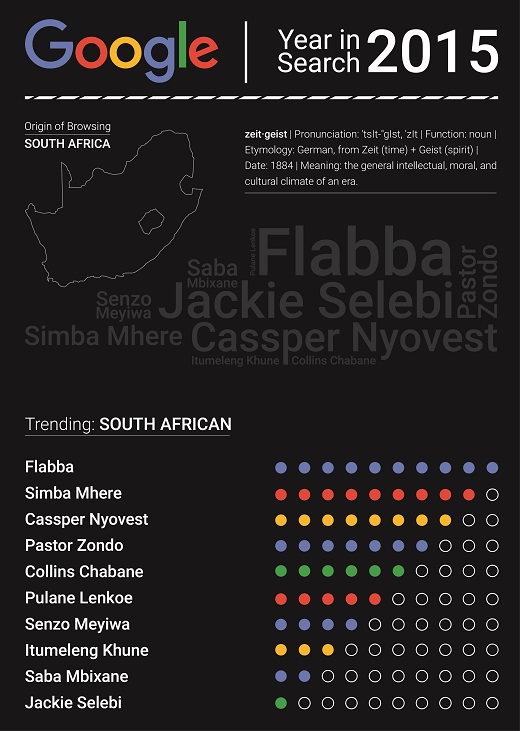 How To…
1. How to cast
2. How to apologise
3. How to e-wallet
4. How to kick
5. How to smoke
6. How to treat
7. How to paint
8. How to prank
9. How to quickscope
10. How to bat
What Is
1. What is xenophobia
2. What is ebola
3. What is occupation
4. What is isis
5. What is constipation
6. What is shrub
7. What is rpl
8. What is meth
9. What is polyamory
10. What is submissive
Trending Current Affairs
1. Loadshedding
2. Xenophobia
3. Charlie Charlie
4. Charlie Hebdo
5. Ashley Madison
6. Collins Chabane
7. Boko Haram
8. Isis
9. Nepal Earthquake
10. SONA
Tech
1. Windows 10
2. Whatsapp Web
3. Samsung Galaxy S6
4. iPhones 6S
5. Fifa 16
6. Google Logo
7. iPhone 7
8. Fallout 4
9. Apple Watch
10 Mortal Kombat X
Trending Political Figures
1. Collins Chabane
2. Jackie Selebi
3. Mmusi Maimane
4. Baleka Mbete
5. King Zwelithini
6. Mtholephi Mthimkhulu
7. The Gupta Family
8. Charles Nqakula
9. Phumzile Mlambo-Ngcuka
10. Blade Nzimande
Source: ITNewsAfrica