The annual IAB SA Internet Advertising Revenue Report, conducted by PwC, shows a growth of 15% in online advertising revenue from 2013 to 2014. This growth, at a rate of more than three times the current CPI, provides a clear indication of the rapid growth of both the size and importance of the digital marketing industry in South Africa.
Online advertising revenues rose from R452 million to R566 million, while search Internet advertising revenues surged to R865 million, up from R680 million. The estimated total revenue of the online advertising market in 2014 is estimated at R1.5 billion.
According to the report, the drop in mobile revenue (from R172 million to R64 million) is misleading, due to the exclusion of search revenues, ad spend moving offshore (and therefore not reported by the local sell-side) and general low levels of participation from mobile advertising market participants (both buy-side and sell-side). Mobile Search revenues are estimated to comprise around 60% of total mobile advertising revenues and raising this bracket to an estimated R448 million, according to PwC's Entertainment and Media Outlook.
"This situation provides an ongoing challenge for advertisers, especially in the light of the steep rise in mobile Internet penetration in the country," says Gustav Goosen, head of the IAB's Research Council. "Fueled by factors such as greater availability of mobile data services and increasingly affordable smartphones, mobile internet subscribers are estimated to increase from 36.6% to 69.1% of the country's population in the next five years. Already, 61% of South Africa's web traffic is generated by mobile devices."
"While it goes without saying that advertisers will increasingly target consumers on their mobile devices, the challenge will be to communicate a unified message over a multitude of devices and platforms. This will lead to challenges in the measurement of the value of mobile advertising, when the lines between devices and platforms become blurred."
In terms of publishers, online news and media platforms remain the most popular digital publishing type, raking in close to 80% of advertising spend for both 2013 and 2014. Social media saw a decline from 16% to 9%, albeit the challenges facing mobile advertising spend measurement no doubt being a contributing factor on this metric, while classified ads leapt from 2% to 10%.
"According to the PwC report, around 60% of social media spending occurs on Facebook, followed by 18% on Twitter," says Goosen. "The popularity of these US-based players is a mixed blessing for the SA ad industry. These brands are leading the push towards substantial investments into online advertising, but the money is not going to local publishers, who are hard-pressed to compete. "
One way to stand out against the competition is to move from static ads to video ads. Currently, only 2% of display revenue in South Africa comes from video ads. However, the effectiveness and growth of these ads are entirely dependent on the reliability of connectivity, and the investment that advertisers are willing to make towards this medium.
Another trend to watch is the growth in programmatic buying, which will also be a discussion topic at next year's IAB Digital Summit. IAB Europe announced that the total programmatic buying market increased by 70.5% from 2013 and 2014, while high increases were also reported for North America. This is not yet the case in South Africa, where site direct trading still accounted for 92% of digital ad spend in 2014.
The pros and cons of different forms of online advertising purchasing remain a frequently debated topic. However, the growth of native advertising is beyond doubt. This form of advertising often requires more work and consideration from advertisers, but research shows that these ads are more likely to be shared and engaged with than banner ads.
As the both the importance and size of online advertising in South Africa continues to increase, advertisers will continue to have to find new ways of engaging with a growing audience, that is also constantly evaluating and redefining its relationship with the online space.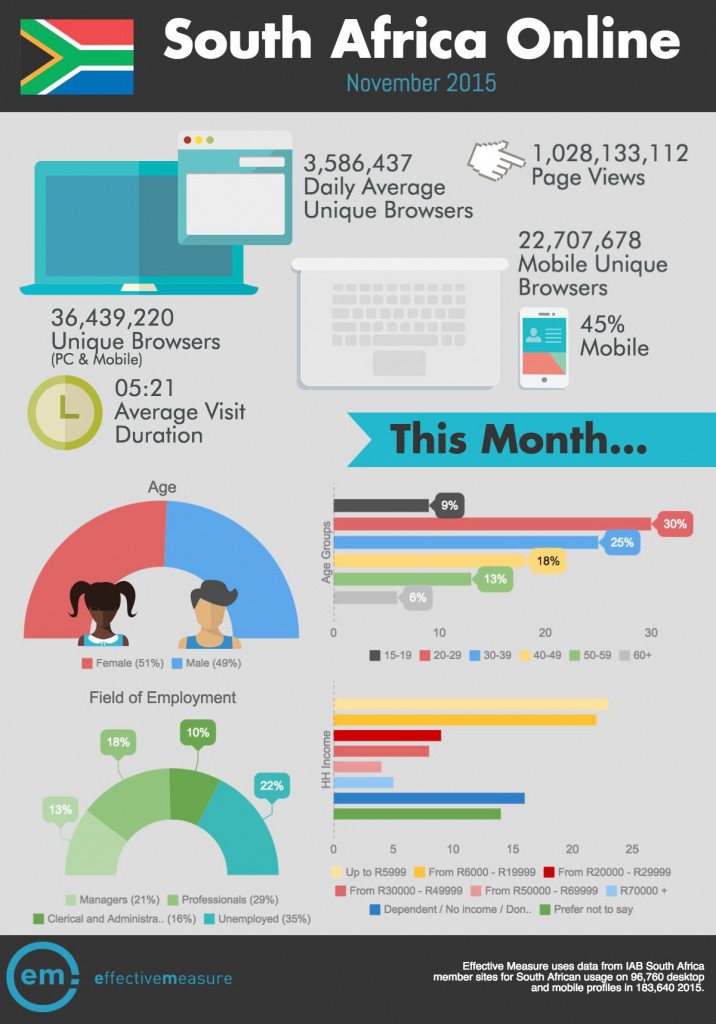 EM Report of South Africans Online in November 2015
Please contact the IAB SA at info@iabsa.net to obtain a copy of this report or to participate in this year's PwC adspend survey.