A small business in the retail industry approached Binary Means on how he can use SEO as a source to attract potential customers to his website. He needed a simple plan to help him get a basic grasp of things.
Below are the broad elements of a strategy we discussed. I hope it helps you as well.
This strategy is divided into two main sections, namely; on-page and off-page SEO strategies
A. On-Page SEO Strategy
This section of the strategy will focus on the search engine optimization that relates to the content and structure of the website.
Key assessment factors include the following:
1. Content
Content is the most important reason why people visit a website. Therefore creating quality and relevant content is non-negotiable. Content is King!!
1.1. Keywords
Content creation is aligned with keywords. In other words, each product category will be mapped to a keyword category.
For example, the following product categories were identified;
Boardroom furniture;
Coffee maker;
Computer furniture;
Office Stationery;
IT equipment;
Accessories.
Each product category is automatically classified as a keyword category. These keyword categories will be researched and analyzed in depth to identify relevant terms and phrases. Targeted terms and phrases must be moderately competitive, but with good monthly search volumes.
The same method will be followed for each of the products under their matching categories.
1.2. Pages
Pages on the site lack adequate content (after analyzing the pages).
Each page must at least have a minimum of 300 to 400 words with adequate targeted keyword density.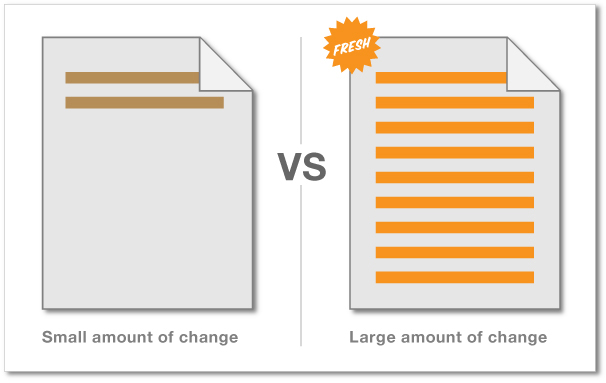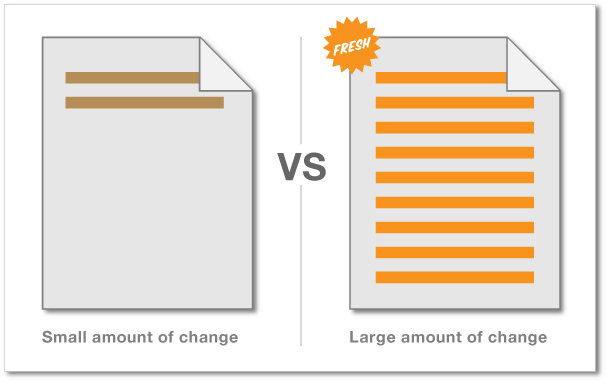 Fig. A. 1.2a Page Updates
This is what we will aim for; a keyword density ratio of about 2-3% depending on the amount of content on the page.
Content on the pages will also be updated on a regular basis (weekly/monthly/quarterly), as determined by the two parties.
The aim of this tactic is to improve Freshness Score of the pages.
The statement below is from Google when they filed for a patent for their Document Scoring Based on Document Content Update.
Also, a document having a relatively large amount of its content updated over time might be scored differently than a document having a relatively small amount of its content updated over time.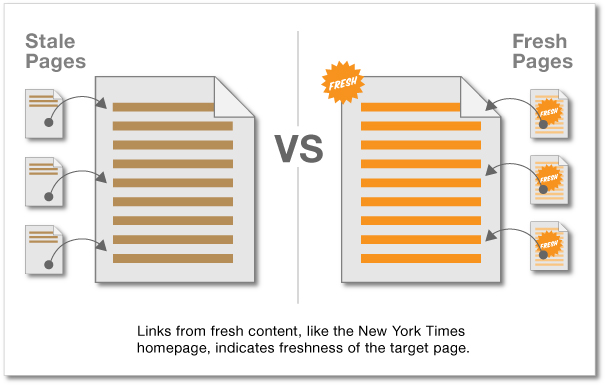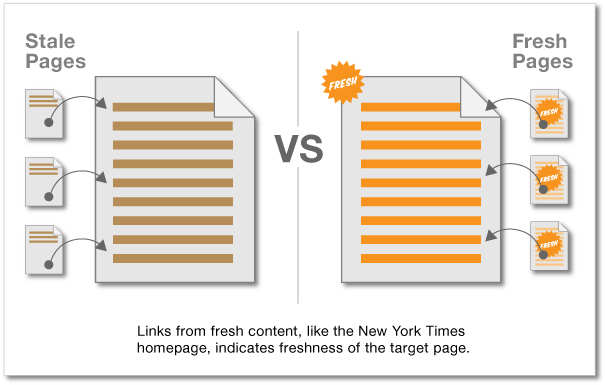 Fig. A. 1.2b Page Updates
1.2.1 Title Tags, Meta Descriptions, Header Tags, Image Alt Tags
A tag is an HTML tag which contains a sentence of text describing the contents of its associated webpage.
These tags are the first aspect of a page that a search engine crawler – (crawlers are what search engines use to analyze the content of a site in response to a search to then present the best results) comes across when visiting a website, so it's important to make a good first impression by optimizing them with the targeted keywords and brand.
The various pages on the site will be optimized to tie in to the product categorization as described in section 1.1.
Providing short titles (76 characters) and descriptions (159 characters) is what we should aim to achieve.
All product images must contain alt tags with their associated targeted keywords and phrases.
1.3 Blog Implementation
Blogging is a key online marketing tool which should form an integral part of the on-page strategy.
Content creation in this area will be tied in to the various targeted keywords/phrases, providing relevant information, tips, how-tos, advice, and video demonstrations around them.
Blog posts will be scheduled on a weekly basis and can be tied in to your email marketing.
It is highly recommended that blog posts are available on the homepage and linked to full content.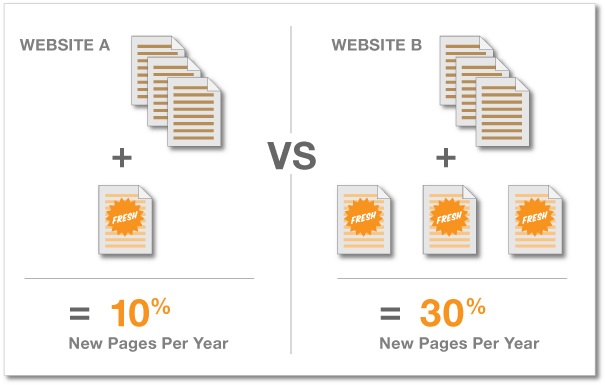 Fig. A. 1.3 Blogging For Better Freshness Score
B. Off-Page SEO Strategy
Off-page SEO is all about building online authority – trust and reputation – for a website.
1. XML Sitemap Generation
XML sitemap submission to Google, Bing and Yahoo search engines.
1. 2. Link Building
Link building is essentially the practice of building inbound links to help give your website authority.
This will provide two main benefits:
increase the authority and trustworthiness of a page to search engines, which increases the overall authority of that website;
help search engines connect the relevancy of a page with specific keywords or phrases – based on the keywords that are used in a link's anchor text.
Link building will be implemented by using the following tactics:
i. Company Blog
Write entertaining, educative and informative content that other people will find valuable and want to link to. See section A.1.3.
ii. Visual Content
Powerful, unique, or even comical, images lead people to link to the website. This includes video content as well.
iii. Product Launches
Building anticipation around a product launch inspires people to talk about your business, which can lead to links to your website.
iv. Guest Blogging
Creating valuable content for other websites provides a good opportunity to link back to your business.
3. Directory Submissions
Identify and analyze quality local and international web/article directories/search engines for site submission. Quality can be assessed by using the Domain Authority (DA) metrics. Examples include:
Gumtree;
Olx;
Hotfrog;
Ananzi;
Bizcommunity;
Entireweb;
Duckduckgo;
Infospace;
Excite;
Dogpile;
Dmoz;
Ezine;
Selfgrowth ;
Etc.
4. Content Distribution
The following content distribution points have been identified:
Facebook;
Twitter;
Google Plus;
Linkedin;
StumbleUpon;
Etc.